is honored in as being a mobile-firstly programmatic ad program
airpush company
you have to check out an array of ad networks to determine what fits you most effective
This is the second of the Be More Better: series.  If you haven't read the first book – you should.  Do so later.  Each book stands alone, giving you great stuff to know and use.
If you've read Stuff to Know and Use and have come back for more, that means the book worked for you.  We are glad it gave you what it was written to do – useful skil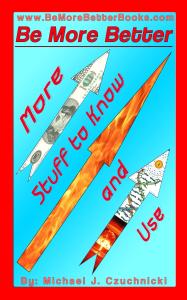 ls and important knowledge.
It is both a cold, hard world out there and a universe full of beauty, marvel, and promise.  There is a lot you need to know to survive, with even more needed to thrive.
No single work will give you everything you need.  Our books are useful, powerful, fun, surprising, and a huge value at the price for what they deliver.
This second book is an improvement over the first.  It uses the same general structure but is better from all the feedback we have gotten.  One big improvement that you will see is that some of the chapters come from new contributors.  They offer wisdom through new and different styles.  We have always wanted to give value while keeping it fresh and interesting.
The third book in the series Much More Stuff… will continue the growth into new and interesting areas.  But that is for another day.
If you are new to the series, understand that we are very literal in our titles.  The books really make you better with specific, useful stuff.  Each chapter is self-contained.  They give the essence of the subject – not every detail in the universe – but the most important core.  The explanations are short, clear, and meant to not only be remembered – but be used.  Our focus is always practical:
To help you immediately…
…but also profoundly!
The initial Motivation section will catch your attention.  The skills here are immediately, and powerfully, useful.  The things we package as knowledge will be the subject of many conversations – as you will realize the truth of our "why didn't this get taught in school" question- and pass it on to friends and family.  Making others better rebounds to help you.
Making yourself better with skills and knowledge is important.  But, even more so is that we are imparting fundamental confidence to you – that you will continue to improve.