iphone application development offerings specialist
fueled.com
uncover free lance ios developers & mobile app fashion designers
preferred android mobile phone mobile programs builder lineup
enola labs
top android os mobile applications developer workforce
This is the first of the Be More Better Books series.  You will quickly see it is useful and enjoyable.  Reading it will be a good use of valuable time.
Why read this book?   What is in it for you?
Many business, military, and political leaders have written advice or self-help books.  Some of their titles are wonderful, stressing: "Leadership," "Success," or "Secrets."  Many use the "Lord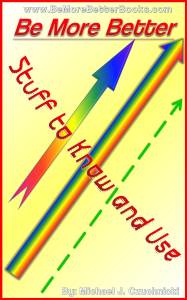 s of History" like Lincoln, or even Attila the Hun, to catch your eye.  We don't.
This book really has Stuff to Know and Use, just as the title says.
The former are facts, understanding, and perspective that everyone should have at their fingertips.  The latter are practical know-how and skills that you will need.  You get both of these in short, digestible, and interesting bites.  You will also get surprised, so be forewarned.
Success today, is often not about what you do, but rather what you know.  Knowing that you can learn is the first step.  Sadly, too many people believe themselves incapable of learning.  By the end of this book, you will have no doubt of your abilities.  You will have received much, and in such a way that it will stay with you.  You can then use and benefit from it.  None will be difficult; all is useful.  When you become very interested in something, excellent!  Dive deeper, later.  Huge benefits come from the pool of knowledge.
There is a lot here on a practical level.  Skills include: speaking and writing; analysis and planning; creating and leading.  There are also unusual and amusing view-points about the ever-changing technologies around you.
This is not a typical self-help book.  There are no endless references.  Question anything here and you will have made yourself better.  The intention is not to answer everything but to give you tools to succeed.  Plato said: "Knowledge is the food of the soul."
We begin by highlighting the importance of choosing.  Then there are some mystery biographies.  Who did they become?  Something you don't know you know follows.
There are reviews of some skills that should have been learned in school – or perhaps you just forgot.  These are needed by everyone – you included.  Even if you consider yourself an expert on some of them, we will make you better.
You get some science and technology.  There are stories about some "Everyday Miracles."  The mysteries of the computer will be exposed – an understanding that is essential.  "The Internet's Origins" is a story you'll not forget – a guaranty.
The book ends with some essential facts.  It is important to make mistakes as long as you know how to handle them.  And finally, "You Are Smart" will give you a Wow as proof of this empowering idea.
You will have a rich feast in the pages to follow – but we hope you will finish hungry for more.