Michael J. Czuchnicki
Family underpins Mike's attitudes: optimism and honesty supporting enjoyment of working hard to make the world better.  Tata taught Mike to read; a gift passed to his son,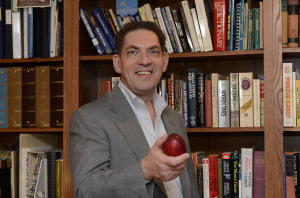 Anthony.  Summers were on the mined-out Appalachian mountain Jadgi had worked.  Babcia gave him loving guidance.  Back in Brooklyn, he would help Mama behind the mahogany bar of the family's tavern – child labor laws, or no.
High school and college years saw his volunteering for experimental curricula.  Xaverian's "Saturation Spanish," forbade English in class.  Two Stevens Institute of Technology degrees in "Society and Technology" generalized – not specialized – in engineering.  He spent time at MIT, too.
Mike's career includes the technology offices at the AMEX and AIG; now he consults around the world.  Working at the New Jersey home he shares with his Theresa, he writes, tries to create, and shares with others.  This is not an obligation, but his greatest pleasure.
Joseph Milano
Joe grew up in Atlantic City where his family owns a beautiful Victorian-era home.  Both his grandfather, and then his uncle, had medical offices on the ground floor.
Joe chose a different path, electrical engineering.  He began as a teenager, inventing and building electronic gadgets.  He then earned two engineering degrees, from Fairleigh Dickinson University and Stevens Institute of Technology.  This prepared him for many years of working on state-of-the-art electronics for the Defense industry.
He is deeply involved in community projects, raising money for charities, and volunteering to help those in need.  One of his hobbies is the study of Physics and understanding the deep mysteries of our Universe.  As such, he amazes the other three writers.
Michael Bennette
Michael grew up in Brooklyn, New York.  His mom and dad, a Deputy Chief in the NYC Fire Department, instilled in him a strong work ethic and solid values.  He ran track in Xaverian High School (with Mike C.), then got his Bachelor's Degree from Brooklyn College.  He is happily married to Ermine.  They have two children, Michele and Laura; and are also blessed with granddaughters, Lily Rose and Isabella Noelle.
Michael's career included operations management for companies sourced in the USA, Asia, South and Central America.  His broad perspective, yet attention to detail, optimized analysis, performance, and ultimately, results.  This background in planning carried over into his financial life.
"Have a plan and begin saving and investing early.  It works."
Danstan R. Hutchinson
Dan graduated from Seton Hall University with a Bachelor of Science degree in Accounting.  His career spans a wide variety of industries, including stints at the prestigious accounting firms of Deloitte, Haskins & Sells, and Touch, Ross & Co.  In the corporate world, he worked for Pabst Blue Ribbon Beer (wish to have known him, then), and Gimbels Department Store.
In recent years, he was the Treasurer of Local 802 Federal Credit Union, worked for Morris County, NJ, and built a Tax Preparation Service that continues to the present.
Danstan is happily married to Shirley, a nurse.  They have two children, Kimberly and David (who babysat Mike C's son).  Dan and Shirley delight in spoiling their three granddaughters.
Theresa A. Swala
…is the editor of both books of the series.  A native of Whippany, NJ; she continues a busy, working life with efforts in many, diverse fields.   Her early career was spent at Warner-Lambert — later, purchased by Pfizer, from whence she retired.  Theresa began helping in the Whippanong library while working the the pharmaceutical industry; and continues doing so today bringing in innovative, educational, and entertaining programs for the public's benefit.